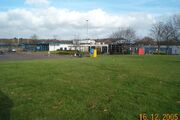 London Gateway service area (previously called Scratchwood services) is a service area on the M1 near London. It is situated between junctions 2 and 4 of the motorway. It is owned and operated by Welcome Break.
It was opened in 1970 and is positioned where junction 3 of the M1 would have been built. It is a single-side services with bridge access to both carriageways.
Facilities
Edit
The services have a Burger King, Coffee Primo and an Eat In. The services also have a WH Smith.